An Eye for Art, Design, and Interior Spaces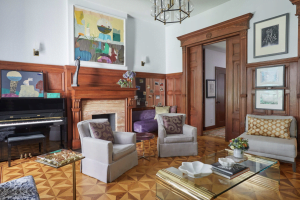 When it comes to art, one of the comments we hear the most often is "I don't understand it" or "I don't get this at all." Conversely, we also actively express our affection for the works that we do love, the ones that "speak" to us in a je ne sais quoi kind of way. Whether they are large, small, colorful, monotonous, flat, sculptural, hanging on walls, perched, emotive, or otherwise, it is undeniable that art is very personal, and has always been a fundamental expression of oneself.
When you work with art, design, and interior spaces—just like flowers—they essentially become the "essence" that ties together a well-designed environment. With the right pieces, you are not only making a statement to the Universe, to yourself, and your guests but also setting a tone for your home and your lifestyle.
Firstly, art answers the natural human need for beauty. It is important to create an environment that reflects one's sense of aesthetics and perception of the world. The house in this sense can be considered as an extension of a person's inner reality and its concrete and tangible representation. Through paintings, sculptures, or simple color combinations, both creativity and certain beneficial emotions are stimulated.
And you know how sometimes you walk into an environment where you feel light and airy, or simply out of balance? Art can also alter the energy flow, or "chi," inside your home or divvy up the physical dimensions of a room. If you feel you are simply living inside of "four walls" rather than a comfortable home, then some artistic perspective may be what you need.
While there is no wrong or right way to integrate art into your life and home, it does help to have an eye for design and an interest in the humanities. For those who know my aesthetics, while I can do monochromatic schemes, I always enjoy doing polychromatic spaces as well as reflecting my Hawaii origins. I tend to mix and match pieces from different cultures, styles, and forms from around the world—instead of being consistent with one particular movement or path in art history. I want my clients to be as curious as I am when it comes to art: a Jarret Yoshida curation will always be a vibrant hybrid of East meets West and all cultures in between.
Among the services provided at Jarret Yoshida Inc., we also offer our expertise in the field of art curation and management—either starting from scratch, giving your existing collection a fresh pair of eyes, or acquiring new pieces to complement an existing collection. A well-rounded art selection should be part of an informed process. Ideally, you might have ideas based on what has inspired you in the past. If not, this is where an au courant eye can be very helpful when it comes to coordinating visual preferences, identifying current trends and longer-term style concerns, and finally, adhering to the client budget.
We've selected and installed many amazing artworks for our clients—with a few ending up on display or in the permanent collection at The Corcoran Gallery of Art, MoMA, and The Guggenheim. My absolute favorite piece in my collection is a photograph by Japanese artist Hiroshi Sugimoto, which I found out recently, much to my delight has increased about 2000% in value.
Choose your art wisely and it can really be more than decorative, but something meaningful and cherished for generations to come.