Making Your Rental Space Your Home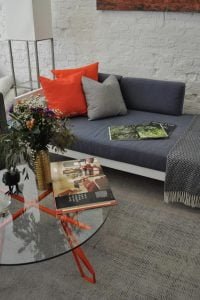 Maximizing our client's budget and space are some of our many great attributes that make our design studio stand out as one of the best interior designers in New York. Many New Yorkers live in rental apartments but have trouble maximizing their space due to their personal budget and area constraints. 
Rental living can be the perfect option for you and your family if you're looking for a way to save money, live closer to work, or pick up and move whenever you need to. However, there can be real drawbacks if you can't customize your apartment or rental house the way you want. Being limited to the existing colors, fixtures, and finishes can put a dent in your style. There are ways to change the look of your space with little commitment and no permanent alterations that might cost you your deposit.
Lively Living Spaces. Your living room is where you spend the majority of your time. Whether you're watching TV, having company, hosting a party, or whatever the occasion maybe you want this space to reflect your style. Use signature pieces of furniture, colorful throws and pillows, and area rugs to not only soften the area but bring color into the space if you are unable to repaint. "Landlord white" or beige can be brightened up with these subtle but easily attainable hints.

A Kitchen That Cooks. If you think that there is no way to brighten up a drab rental kitchen, think again. Even a simple idea of changing out cabinet and drawer pulls can make a significant difference in a kitchen. Swapping out a lighting fixture shade can also brighten up a space. Just remember to keep the originals put back in place when you leave.

Create The Perfect Bedroom. Creating a restful and beautiful bedroom can be attained pretty easily by sourcing the right rug, bedding, headboard, and lighting. Swap out the generic ceiling light globe for something more interesting (again, keep the original for when you move.) Layer those accent pillows of different sizes and patterns on the bed. Finally, to top it all off, side tables and mood lighting can make a huge difference as well! 

Your Dining Room Can Create A Bang. You can design a lively and inviting dining environment by decorating with the right dining room table, chairs and lighting; adding color and pattern with dishes, placemats, a tablecloth, and runner; and finally choosing an appealing color palette.

Window Treatments: All Sorts Of Options! Ready-made and custom window treatments abound, so you can transform the look of an entire room in a snap. You can frame out and hide unattractive windows, bring color and structure into every room in your home, or make each space look brand new.

Art Makes The Space. You don't need to spend a mint to make your space look like a million bucks. Using prints, reproduction posters, and even photographs taken from photography books and magazines, then framed with stock frames can make a huge difference in any space. It can instantly be transformed and look expensive, and more importantly, like home. As designers and artists from the best interior designers in New York, we believe in an emphasis on ornamental pieces such as art to create a personalized experience catered to a specific individual's tastes.

Where To Buy To Save A Bunch. You can find amazing pieces of furniture, lighting, and art at great savings by shopping at garage/estate sales, stores such as Goodwill (where your money will make a difference as well), and flea markets. Don't discount (pardon the pun) what you can find in these spots, as there are so many great pieces, old and new, that are waiting to find a new home in your rental.
In time, one can also transform their living spaces into spaces just like New York's best interior designers to create a lasting and happy living experience.