(A Brief) Bathroom Design History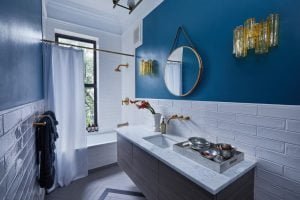 Even though society keeps progressing forward, certain things never change. One of them is the importance of a small but slightly essential room: the bathroom. A poll published by The Independent in 2019 showed that UK adults spend on average 416 days of their life in the bathroom, with men and women spending respectively 23 and 29 minutes per day in it, doing activities such as showering, moisturizing, shaving and even reading.
This information highlights a key fact:  even though it may be the smallest room in our house, the bath still remains one of our most privileged rooms in the house. Here is a brief history of toilet and bathroom essentials.
White has typically been the chosen color for bathroom interiors, at least during the last 50 years. The most popular bathroom for our clients remains stark white and has been the case in the past 20 years of our work. One study recently showed more than 90% of sinks, tubs, and toilets are made out of porcelain, naturally white due to the manufacturing process. This hasn't always been the case though. During the 19th century, toilets were white and often embellished with beautifully-colored patterns. A major design shift occurred when white began to be culturally associated with unique psychological traits and qualities — pureness, candor, and cleanliness.
Between the pattern period and the white era, other trends influenced bathroom design both in the US and all over the world. Starting from the 1920s until the 1970s, bright colors and unusual combinations were the latest trend in bathroom style choice. I've been in many bathrooms in old homes and apartments due for a renovation and can very easily recall the 1940s bright colors, the typical 1950s pink and gray hues, and even the 1960s turquoise. It may surprise some, but I often find myself wanting to keep the original tile and design intent of the architect because the schemes can still be refreshingly appealing and well done. I once had a beautiful Art Deco bathroom in Park Slope's historic home district and I find myself wishing I had a gold and terracotta and black bathroom in Brooklyn again.
Lately, as a designer looking for fresh inspirations, I do find I have been incorporating more color into our spaces. I have been keeping the architectural features like floor and wall tiles neutral and natural, using porcelain and Carrara or Calacatta marbles or dark brown and black marbles as well. Meanwhile, I am now introducing bold colors like russet, cerulean, or moss into our bathrooms through wall paints, cabinetry finishes, and accessories, items that can be easily changed without requiring a gut renovation. On some of our upcoming projects, I do find myself introducing natural glazes and colors reminiscent of beach and hiking trips.
The key, I think, is to introduce items you know will stand the test of time, regardless of the current trend, and stick with classic styles and easy-to-modify features to give our bathrooms the attention they deserve.