Tips for Minimalist Interior Design Style for the Home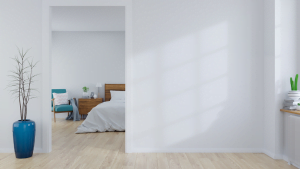 Brooklyn interior design firms are always working to combine the best of the old and the new in our great classic architecture. It isn't just about over-the-top contemporary or traditional work, but sometimes it is about minimalist interior design: clean, clear, uncluttered style. Whether I put on my brownstone interior designer hat or my contemporary apartment design one, minimalism is about the negative space and function more than the individual components. 
Minimalism should provide an abundance of light, a sense of open space, and simplicity. These modern minimalist homes are all about quality over quantity, less is more, and pared-down pieces that are selected for their function and elegance. This is what some of the best interior designers in New York focus on when working with some of high-profile clients wanting to convert their spaces into minimalist homes.
Minimalist design is characterized by uncluttered lines and monochromatic color schemes. The harmony of space is not built upon contradictions but things that have similar characteristics (i.e. color palette, texture, material, etc.) Meanwhile, even though minimalism reflects some sense of appreciation for functions, more importantly, it leaves enough space to generate future possibilities for dwellers to define more functions of the space. Most interior design companies in New York love minimalism, but I think we really embrace the ethos on a personal basis that is warm and inviting.  
As a brownstone interior decorator, there's a pretty bright line between creating a showroom and something warm and welcoming and our clients always leave knowing we've made them a space for family, not photoshoots.
For example, when you're redesigning your space with new colors, decorations, and lighting, imitating the genius of nature and earthy textures is the most reliable way to create a cozy and calming home. This way, your surroundings will feel more organic while still being textural and visually diverse, and intensity of colors that are appealing and stimulating, as well as a layered space that comes across as having been well thought out.
A minimalist living room is a favorite of Brooklyn interior designers because it creates the impression of urbane comfort, but I love it because it embraces the idea of less is more which is easier on our budget. Not only will excess stuff make your apartment look cluttered, it will also collect large amounts of dust, so they require more care about maintenance. It is not necessary to decorate an entire home in this style, but a minimalist living room is a great idea. You spend the most time here, and if this room looks spacious, you feel comfortable in your home.
Here are my top 3 tips for a harmonious, minimalist living space:
Low Pieces Of Furniture: For creating a minimalist living space, the interior you decorate in this style should be devoid of unnecessary furniture. Simple, low pieces will open the room, and in the case of furniture in vibrant shades of color, decoration will be sufficient in itself, so you won't even need superfluous details that just take up space.

Window Size Matters: Large windows that let in a lot of light will not only make your room more beautiful but also positively affect your mood, as a dark room can induce feelings of depression and gloom.

Design Elements: If you're obsessed with details, use one as a central design element. This can be a large striking image or a well-framed photograph to give your home some warmth.
The ultimate luxury is comfort (at home). Minimalism is the ultimate style that requires no strategy. You can change the atmosphere of your living room with this simple arrangement. It will take you a few minutes to complete the task, and then you will see how amazing your living room looks. 
The top interior designers in New York and Asian interior designers in this field agree that minimalism is the only resort – a trend that has been prominent in recent ye