Designing With Pets in Mind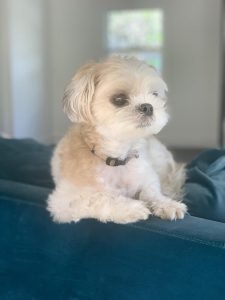 We love our furry family members. Dan and I have rescued and found homes for 38 cats, two dogs and one parakeet in the 10 years we have lived in Bed Stuy, Brooklyn. Dogs and cats bring so much joy and love into our lives that we do not want to imagine life without them. There are, however, design concerns when it comes to our pets:  it is all about cleaning and durability. Here are some pet-friendly interior design thoughts to keep in mind when designing with pets in mind.
Minimal rugs and no carpets. Rugs and carpets can not only trap allergens but also make cleaning paw prints and fur and dander impossible. Hard flooring will make for easier mopping. Pro hint: our Roomba has changed our lives and made our home even more dust-free.
Easily vacuumable wood blinds. Having blinds that can be cleaned and wiped vs curtains that require some kind of dry cleaning not only minimizes the collection of airborne pollution.. Allergy-prone folks will find this especially helpful.
No bed or sofa skirts. This allows for easier vacuuming.
Make it washable or durable – slipcovers are ideal for furniture where pets love to relax. You can simply remove and wash every few months. I also like washing our pillows every few months.
Outdoor fabrics make for better stain resistance than typical indoor materials. There are so many outdoor fabrics that are beautiful, and comfortable and they are woven in everything from terry cloth loops to velvets and more regular plain cotton. They are easy to clean and maintain and are actually even more affordable than their traditional analogs.
Just a few of these easy to accomplish pet-friendly interior design ideas will help you keep your home comfortable for the furry friends in your life and you.